Disclaimer
This post isn't meant to offend anyone. But if you feel that I'm a bitching asshole, I'm sorry. I still want to post this.

Prologue
Ok, this post might go a little too long. This isn't a review for you to decide if you need to spend money to watch this film called Second Show. This is a writing of the director's friend, who later on turned out to be an assistant director in his film and then a movie goer who ended up seeing the film his friend made.

Chapter 1: Build up
Before I write anything about the film that I have seen, I would like a rewind. Like a cliched boy who is about to propose to his girl, I bloody don't know where to begin!
Your blogger, that's me, Appu N. Bhattathiri, happened to have worked in this film called Second Show as an assistant director. Yes, I know that line sounds like a self promotion sort of a stuff, but it's the truth! I'm a guy with some complexes which I have to admit. Even though I'm proud that am part of this film I wonder if I could actually call this film mine. To me, this film belongs to Srinath Rajendran, who made it, and to an extent Vini Viswa Lal, who wrote it. Besides them the only few names I would care to mention would be Fellini (the associate who had stayed with the film for so damn long as though he was the Godfather who was assigned to look after Sri's baby), Praveen (the other associate and the strangest man I know), Pappu (who captured the dream that Sri lived), Sunny (the rockstar in front of the camera and also the man whose idea inspired Sri and Vini for this film) and Dulquer Salmaan (the man who played the protagonist). So, I see only seven people who deserve to have it as their film and I'm clearly not in the picture.
Here is another truth as well before I proceed. I'm bad with names, dates and times. I would use them though and hope to be as accurate as I can. Also, the content might seem a bit exaggerated (graphic in filmy imdb terms) as well.
I was rang up by the director of the film, Srinath Rajendran, on February 3rd 2011, when I was staying in Chennai. He made the call to confirm if I was in with him for making the film that wasn't then titled Second Show. Of course, I had told him that I was there as part of his film another 20 odd times before, but this was when it was finally confirmed. It was with this pleasant news on my head that I started editing my final year project film, Between.

Chapter 2: MacGuffin
Now, here is another rewind inside this rewind. I first met Srinath Rajendran during the post production phase of Jayaraj's Gulmohar. He was an assistant director to Jayaraj then. Since I managed to cast some black magic spell on Jayaraj sir, I managed to stick around for a couple of days there and hence getting to now more about Srinath Rajendran and Albert Antony, who was also another assistant director to Jayaraj. We talked movies, murdered films and filmmakers whom we hated with our mouths and spend time with enough and more discussions. It was during this time that I showed Srinath the film, Hot Fuzz directed by Edgar Wright. I had seen the film once and loved it for its outrageously fast pacing with cuts and humour. But on this second viewing I had with Sri, we found the film flawed (or let me say, I dint like it as much as I did earlier). Jayaraj, who also managed to see a glimpse of it, noted that these fast cuts would serve entertainment but not emotion. And he was bang on, the feel and emotion were exactly the things that worked least for us. I guess my readers (I know the number is far too limited, but I know that I'm gonna have an additional five or six readers, who usually don't read what I write, to be having a check on this.) are wondering if this is something like a MacGuffin. (MacGuffin is a plot element that catches the viewers attention or drives the plot in a wok of fiction.) I say, you read further and you might know if I was actually playing tricks or not!

Chapter 3: AD isn't Anno Domini, it's Assistant Director!
On 8th July, I made my journey to Ernakulam where I finally joined the team, well a very small part of the team, that would make Second Show happen. That place evoked memories of Chennai for me with its discipline, tidiness and occupants! On 14th of the same month, there was a silent pooja of the film. A memorable event for me indeed as I managed to have a look at the Arriflex 435 camera up-close. By this time a lot had happened which included the casting of the film, dropping of the plan to make the film a bilingual and also finalizing the name as Second Show. From the 20th of July, I was going to do a freaking job for second show which was called costume continuity. Second show is a film with plenty of characters. You watch the film but you may not know but I definitely knew that it had plenty of characters and a lot of changes! (The previous line wasn't part of the graphic content.)
On almost every passing day, I was meeting new people and getting closer to the ones I already knew like Praveen, Sunny, and Vini kept the fun alive; Krishnamoorthy who kept my bad Tamizh alive; and Fellini who was more work and less play sort. But there was some thing pleasant about finally getting to meet Gauthami Nair, the female lead of Second Show. It definitely wasn't the brightness of finally meeting a young and not-so-bad looking girl but a guilty pleasure of meeting someone who was shorter and two years younger than me. Like I said, I have some silly complexes!
Chapter 4: Action
Even when everything was set, the film had its share of complications before the shooting finally took off. And once it took off the action packed adventure was nearly 52 days long in two schedules. The first schedule was long and bloody long. It was 41 days. It had some sick days, days I worked with passion, days I worked just for my friends and days I was not paying much attention! My work was flawed but not a total disaster, I believe. There was a joy and excitement that I had hours before the shoot took off. I was having a sleepless night, well almost. There had been moments when I wanted to quit being an AD (assistant director). It was and still is a bloody mechanical job which I believe robots would do in the far ahead future of movies. My failure of being an AD was the fact that I had emotions and feelings which only a robot in movies is supposed to have. I wasn't a good robot for the mechanical work and I made a lot of mistakes that sometimes made no impact and did at a few places that would not quite meet the eye of the normal viewer.
In the second schedule I made my presence only on half of the days. I was left out of the team that went to Pondicherry and Wayanad. When I rejoined the familiar team I got myself the privilege of being the clap boy. This was easily the sexiest job an AD could do. Because if you had the clap in your hand, that was like having a gun, nobody would dare to come to you and assign you shitty jobs like crowd control. And you get to interact with the soul called focus puller who is such an underrated artist, see and be near the camera all the time and watch how the scene is being lit.
Before I close this chapter, I wish to add a little of the self promotion stuff! I managed to call the action word for a news that appears on TV. It wasn't totally directing but when you get to call "action", it felt so good. There was also another instance after the pack up, when I was asked to go over to Calicut and shoot a few photo snaps that would feature in the film. I dint call action but I directed the small scene that featured Sunny-the rockstar, and few extras with the support of Santhosh Adoor somehow. The good news is both these things dint get cut on the editing table!
Chapter 5: Cover up
The post production phase of the film took its share of time to complete. This was infact the phase that I wanted to be so much part of. But my involvement was a disaster. I disappointed myself though I managed to watch a lot of movies. I closed my eyes on Second Show for the International film festivals at Goa and Trivandrum. But I did go for the dubbing on two days and got myself to see the DI of the film for a couple of days. My loss of missing the editing phase of the film was inevitable.
I was coordinating a lot of the visual effects stuff of the film. The film features 21 visual effects shots and I'm sure that most of them stay invisible. The visual effects part was fun because of the involvement of two of my friends, ArunLal and Andrew, two smart technicians. The freedom that I was allowed with from the direction side and the visual effects side gave me even more happiness. It was a time I felt like Second Show was really mine!
Though the invisibility of the visual effects contribution still exists to an extent, some of the great tricks and attempts on the footages of Second Show will never see light due to reasons that I haven't understood myself.
Chapter 6: First Show
Second Show released on February 3rd. I skipped the preview and entered cinemax screen with a heart that seemed to have been beating faster. Cold was rising in on me and the show started almost 20 minutes late. To my disappointment, it was the worst copy of Second Show anyone could ever see. A print that was nothing short of a disaster. So, I managed to see a better version of the film before I finally noted the things down for this post.
The title cards made way for a man walking from a distance. Things were beginning and it was steady. We dint know where the story was happening but we saw a protagonist, who reminded of Mammootty in his walk and voice but stranger to the costume of mundu, and another young guy. Now, the narrative very soon shifts to a flashback. The next eight to 10 minutes of the film seemed like an uncontrollable mess by a team of people who had given there first shot at movie making. The bragging of the protagonist sounded awesome in the voice of Dulquer Salmaan. But he was definitely talking a little too much and that wasn't helping. Then, the film slows down a bit and begins to make sense. It waves an air of freshness with its dark atmosphere and a pleasant transporter avatar of the protagonist. Now, the character of Kurudi begins to hit the right notes for the film. His dialogue delivery and flexibility steals the light from every other artist in the frame.
The first fight sequence of the film disappoints. Though the use of high speed shots for the sequence was an effective idea, the lack of innovation in the choreography and the almost totally plain progress of the super-fast stunt let me down. After a couple of skillful editing and some minor developments in the screenplay, the character of Vavachan, played by Baburaj, enters the scene. With this the film was moving into its second phase. This could be one of the smartest portions in the entire film. The music of Rex Vijayan begins to take toll in the best way from here. Though the screenplay was filled with ideas that where outrageously silly, the execution and performances make terrific contributions keeping the viewing experience intact. The developments of the film is steady further on with the neat comic touches throughout up to almost 10 minutes before the interval. There are slight hiccups at this point but the film would manages to sail to the interval soon.
Post interval begins a little messy. Too many minor developments with not all of them making the necessary impact or impression. Then, there is some romance thrown in as well. It isn't very cheesy as the lovers talk less. But as though to compensate for the lack of talking, the girl has her eyes wide open and giving the guy looks with little differences and communicating something which certainly wasn't very romantic.
Half way through the second half comes the most emotionally powerful scene in the film. Though I believe the sequence could have been made in a much more splendid way, the scene truly worked in the matter of feel and emotion. I'm not sure if I found the sound design effective enough here. But, Dulquer and Rex walk away as the stars in this otherwise terrific scene. I guess, like everybody on the set on the day we shot this, I too had felt that this was going to look bloody brilliant on screen for the exceptionally brilliant way Dulquer acts. After this, the film now enters its final phase that's more or less a showdown of twists and turns.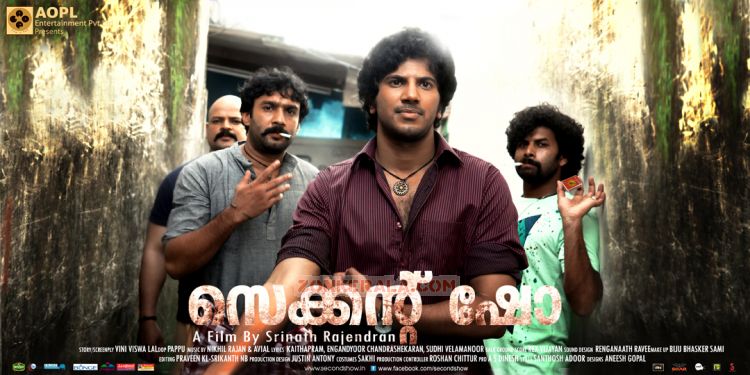 Chapter 7: Second Show
Second Show is typical yet untypical. It's a celebration of cliches but collaboration of new visions too. So, beyond the deja vu that one would experience in the cinema, there should still be an air of freshness in Malayalam cinema.
Srinath's take on the rise and fall of the protagonist isn't the Godfather kind. It is not even the Quentin Taratino kind. But like QT, inspirations from films that have come before is evident in Second Show.
The film's narrative and treatment evoked in me memories of the Guy Ritchie films like RocknRolla, Snatch and Lock, Stock and two smoking barrels. Like Ritchie, Srinath too has relied on comic elements while dealing with a crime thriller subject and a good deal of narration to tell the story. The film is dark at times but unlike these Ritchie films, they span over a period that is very long. The raw visual style was more like the Latin American films like City of God or City of Men. Yet, Pappu had made sure that there was a considerable change in the look of the film in its progress. From the unfriendly camera movements and framing in the beginning of the film to the more disciplined visual style in the later half of the film definitely works to an extent. Shot in Super16, I did find it difficult to adapt to all the looks that it gave. When Pappu scores well with the night sequences that seem night and interiors that evoke a neo-noir feel, he disappoints at times with a few of the day shots. The lack of extreme location shots in the film is missed at times. And the use of far too many close range shots and a few of the handheld shots in the beginning of the film did complicate my vision at times. The effort to keep the colors as real as possible might definitely have added to natural feel of the proceedings.
The art department suffered a hell during the production phase and so did the costumes to an extent. Though the transition in the style, for which Sakhi, the costume designer, even made a look-book (that was only good to look at and something that wasn't of much help for me, though she thought it would) wasn't registered much, I'm certain that Dulquer did look real good in one of the key scenes in the climax of the film. The make up department is such a sophisticated department about which I shall rather not talk especially in a film like this. The writing by Vini Viswa Lal deserves the first lines of this chapter. It celebrates plot elements, developments, sometimes even characters and styles that have been tried and tested. There is a Telugu flavour as well to the writing. But the goodness of it is, even in the familiar circumstances, it works. When the movie is over and you take time to think again about Second Show keeping in mind films like Subramaniyapuram and Renigunta, I'm sure certain parallels exist. For example, even the bold decision to give a change in character of the female lead was already decided and boldly attempted in another manner in Subramaniyapuram. But the catchy one liners that are supported by the splendid voice of Dulquer work big time and the neat humour performed with immense class by Sunny looks great.
The editors, Praveen and Srikanth, did have some real work to do in this film, I'm sure. And this is the place where MacGuffin comes to play! I had mentioned about the film named Hot Fuzz in Chapter 2. The way the film proceeds in the first half is with a decent pace with plenty of jump cuts and fast cuts. And this pace has hindered all sorts of feel and emotion to the proceedings though the humour manages to work well. This was exactly the case with Hot Fuzz. It was also a film with two main characters that celebrated and spoofed a lot of buddy movies. I don't know if this film was in Sri's mind to chose this sort of a pattern on the edit but I was reminded and I have noted. There are some interesting portions in the edit like a time lapse sequence in the early part of the film and a scene where the characters booze worth mention.
Second Show is a crime comedy that features some action. But sadly, the action scenes disappoint a big deal. Like I had said, the first fight falls flat due to lack of innovation even though some of the high speed shots looked interesting. The second fight worked a good deal. It was short, heroic but that shot of comic relief in between wasn't needed. Dulquer's action moves had an ease and style that had an energy that I loved. The third fight would have been so much better if it wasn't shown the way it is now. The shots could have had a bit more light and seamless transitions. The scene was worked in a seamless manner during the shoot and the sequence was made seamless in the post production as well but some complication has caused it to be displayed in a manner that seems half baked and disappointing.
The film sounded loud. The songs of Nikhil and Avial all gel well with the film. The songs dint seem to affect the narrative though their footages dint always work wonders. The film relies a good deal on silence. So the score of Rex Vijayan is fine for most part though I feel the beginning portions of Lalu and Kurudi could have been better. The sound design by Renganaath Ravee could have a thumbs up though I wonder what might have happened during that crucial scene in the second half of the film. I would have also wished him to have made some contribution when the cartoons of Kurudi came up on screen among another few instances.
Second Show is a film with an almost completely fresh cast. I totally respect Srinath for this decision and his effort towards it. He wanted to make it with new faces and he made it with new faces. A screenplay like this one, that has enough of heroic acts, humour, mystery and more could very well have had known faces. There was definitely a possibility of working with an elite star cast. But, this was the right way I guess and it has only done good to the film. The confidence he had in extracting the performance and the patience at work is all for admiration now.
Of the cast, definitely Sunny stands first. He was the true rockstar for most part of the film. Dulquer is neat in the first half but it is Sunny who scores more then. But it is in the second half that Dulquer's performance beats his vocal abilities completely. When Sunny adapted very well to the character, I guess Dulquer had his own share of difficulties. It's not that he hasn't performed but certain things doesn't seem to go all that well with him. Like, his English is a little too polished and the Malayalam a little less natural. But with the kind of chemistry that the two shared on screen nothing mattered to me. Baburaj in his short role was bang on. Kunjan and Rohini dint surprise. Gauthami has strange looks all the way. More than her mouth, her eyes seem to do the talking that dint make sense all the time but worked well at some parts. I personally thought that Sudesh Berry was gonna turn out to be a disaster on the set because of his extra slow motion in his actions and speaking that pathetic Malayalam. But, his character too works with an elegance, thanks to a terrific dub voice. Vijay Kumar also shines in his character with very short screen time. The rest of the characters doesn't seem to have much to do but all seemed to fit the bill.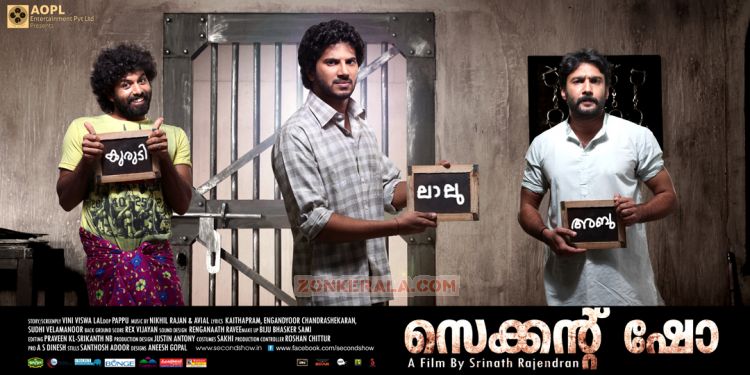 Chapter 8: Over
Second Show might not go well with all. I don't know if any film has gone well with all. But I believe the younger people would be fanacinated beyond the older generation and the female gender. Aaranya Kaandam was the recent Tamizh film that I guess had a great neo-noir feel to it. Though it had great reviews around it I'm not sure if enough people saw the film. Thankfully, the lesser experimental mentality, compared to Aaranya Kaandam, has a positive impression on Second Show. However, I'm disappointed with what the censor board has done to the film. If the abuses and foul language spoken by the characters where heard, I guess the film could have worked a little more.
The film's title, Second Show, refers to the second chance that a group of friends in their life. In January, 2011, a Malayalam film called Traffic was released. It was also a film about the second chances that many of its central characters got in life. That turned out to be a huge success even without proper publicity and promotion. On this February of 2012, Second Show was released lacking in publicity and promotion. It has now opened to some brilliant word-of-mouth just like Traffic.
In April 2007, Amal Neerad's Big B, starring Mammootty, was released. It was a film that was a box office disappointment but one that has attained a cult status. The significance of Big B is that it was one film that had a lot of fresh faces off screen in almost every department of the making. Now, Second Show is also a film that has a lot of fresh faces off screen (and on screen), starring the son of Mammootty, and I believe it too would arrive at a similar cult status.
So, I guess Second Show is indeed about the second chances.
Epilogue
(Well this isn't exactly an epilogue but I wanted to write it somewhere and so here it is.)
I dint know that an assistant director would be getting so many calls and messages because of a film. It feels kinda nice but well I think I should have given a little more to the film.
Before I close this, putting down something that Ramu casually mentioned to me once. In late December 2010, Martin Prakatt's Best Actor released with Mammootty playing the role of a school teacher who dreams of becoming a film actor. Near the climax of the film, there is a dialogue where the character shouts at a couple of movie related people about actors. There he questions if "nee okke veetil chennu aathu nadane-yaada nadan aakkiyathu?" which loosely translates as "have you ever gone to houses searching for actors and turned someone into an actor"
I suppose, Srinath and Vini can tell they just did. They searched for Dulquer. They found Dulquer. They made Dulquer their actor.